Want to know why you need captions on your video marketing, and how to do it?
Read on for quick tips and expert advice on getting it right!
And if you'd like some more inspiration for getting the most mileage out of your video, download our free guide to strategic video marketing.
Psst – if you just want to know how to add captions to YouTube videos, click here to jump to that part!

There are 4 key reasons why you should be adding captions to your online film:

1) Accessibility: In the UK alone, there are 11 million people who are either deaf or hard of hearing. Adding in captions or subtitles allows the deaf and hard of hearing community to access your films.

2) Behaviour: 85% of Facebook users watch videos on mute. This behaviour isn't limited to Facebook, as reports from other social media platforms tell the same story. It seems that it can be a bit of an inconvenience to watch videos with the sound turned up – likely attributed to the fact most people watch online videos whilst on the move, in a public space or in the presence of other people.

3) Engagement: Reports show that captions actually increase both engagement and watch time. This is because captions can grab the audience's attention as they scroll past it, even when the film is on mute; so it really does pay to include captions if you're looking to optimise the reach and performance of your film.

4) SEO: Crawl bots don't have eyes to watch your video, but they can read the text and code. By adding a transcript to your website page, you'll be enriching that page with all of the text spoken within the film. This is going to contribute significantly to your overall content marketing campaign.


The difference between captions and subtitles
Really simply, captions can be toggled on and off via the platform used to view the video, whereas subtitles are text that have been overlaid onto the video and can not be switched off. However, the two terms are often used interchangeably when talking about adding text to a video that follows the dialogue.

Captions are great for Facebook, LinkedIn and Youtube.

Subtitles are great for Instagram and Twitter. Annoyingly, these two platforms don't currently accept SRT (subtitle) files! But do not fear, this blog will show you how to get both captions and subtitles for your video, and how to upload it to social media…

How to add captions to an online video
There are a number of transcription websites and services available on the net, but we choose to use rev.com.

We do this because it's cheap and pretty accurate, even when faced with my Bristolian twang.

To get started, you'll need to head to rev.com and make an account. Sign up with your username and password:

Once logged in, you'll then need to choose the caption service:


You can then choose how you want to upload your video to the website. This can be done by copying and pasting in the link to your video, uploading it directly to the site or even by connecting your Youtube or Vimeo account.

Click submit, and you'll be prompted to provide payment details:


You'll then be notified when your order is ready, and you can proof and edit your captions (which is a must!).

The interface is really simple to use, and it allows you to correct any mistakes:


Once you're happy with the captions, click download and choose either SRT files (which can be uploaded to Youtube, LinkedIn) or Facebook Ready files (which are optimised for Facebook).

NOTE: Remove any punctuation you may have within the title of your film, such as underscores or full stops, as this will confuse Facebook!


How to upload captions to LinkedIn videos
Once you have your video and its SRT file, you can upload a video with captions straight to your chosen social media account.On your LinkedIn homepage, click the video icon in the 'start a post' box, and select the video you'd like to upload:



Once the video preview appears, you'll be given the option to add auto-captions, or to upload an SRT file. If you have an SRT file already, then upload it – if you don't you can use the 'add auto-captions' option. We'd recommend also selecting the 'review captions before viewers can see them' option, so that you can check for anything that may have been lost in translation!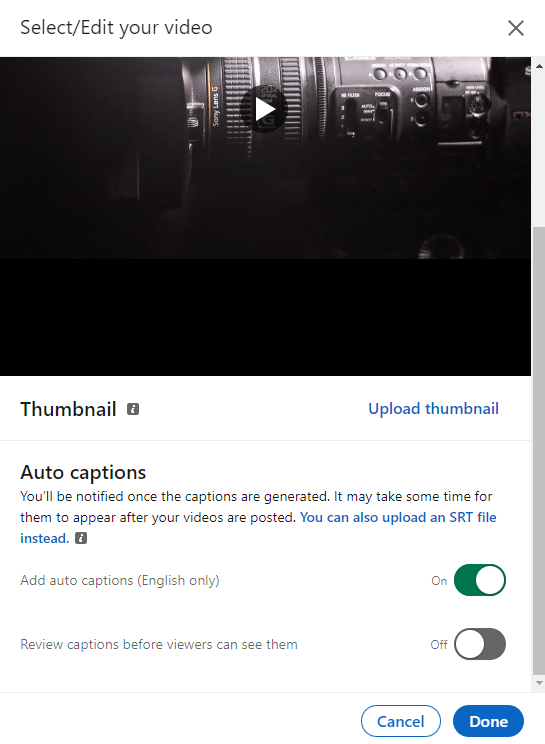 Add any text and hashtags to your post, and when you're happy, click post.


How to upload captions to Facebook videos
To add subtitles to your video on Facebook, follow these steps:
On your Facebook timeline or News Feed, click 'Photo/Video':


Choose your video, then click upload. Hover over the video, and click the 'edit' icon.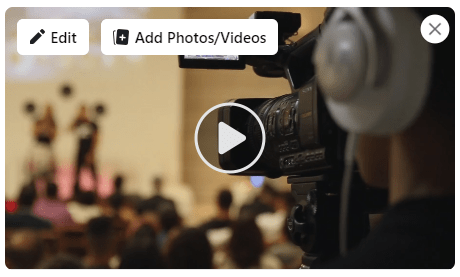 Click 'add captions' and you'll be given the option to upload SRT files.

Upload your SRT file, then click save. Your captions will now be added to your Facebook video, ready to post.

How to add captions to Instagram videos
Open the Instagram app, and tap '+' to upload a new video.
Select 'Reel' from the bottom menu, and choose the video to upload.
In the editing screen, tap the stickers icon in the top menu, and select 'Captions':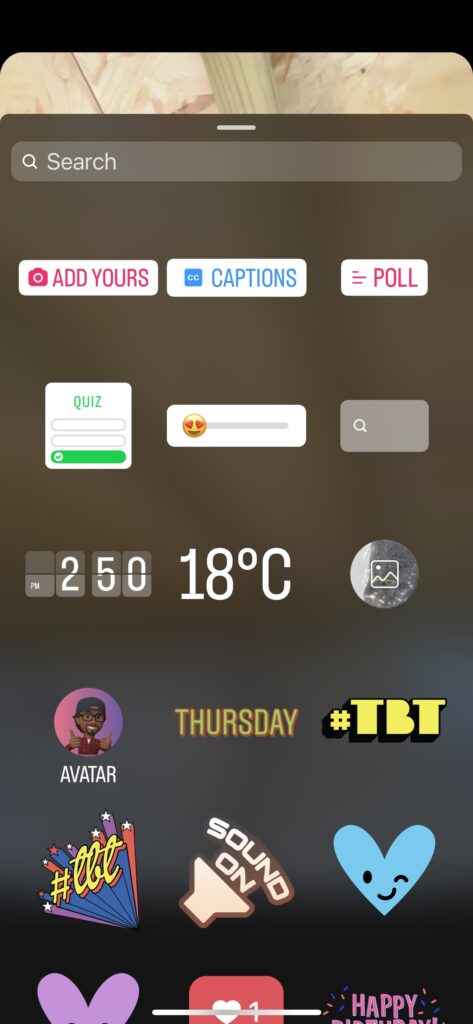 This feature will auto-generate captions for your Reel. You can then tap the 'cc' icon to edit your final captions, before posting.

How to add captions to TikTok videos
Open TikTok, and tap '+' to upload a new video.
Select your video, then tap the 'Captions' icon on the right hand menu:

TikTok will then attempt to auto-generate subtitles for your video. You can then review the captions to check for any errors, and tap the text to change anything that doesn't read correctly.
Click save to add your finished captions.
You can also manually add subtitles to your video using the text feature when editing your video, or upload a TikTok video with subtitles already added by your video editor.

How to upload captions to YouTube videos

To add subtitles or captions to a new YouTube video, follow these steps:
Sign in to YouTube Studio.
In the top right hand corner, click 'Create'. Select and upload your video file.
Add your video details to the first upload screen, and click 'Next'. On the second screen, you'll be given the option to add subtitles: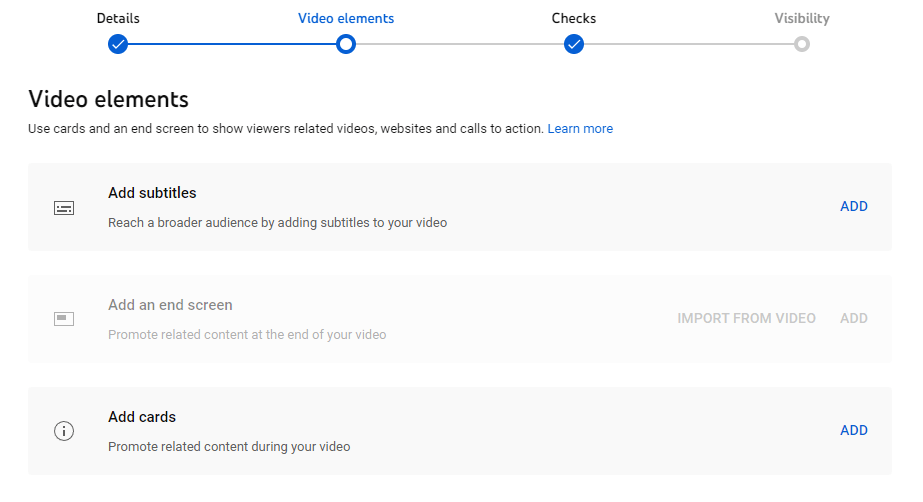 Click 'Upload file' to add your SRT files, or you can choose to manually type the subtitles while playing the video. Once you're done, click save and finish uploading your new video.
To add subtitles to an existing YouTube video, follow these steps:
Sign in to YouTube Studio.

On the left-hand side, select 'Content'.

Click on the title or thumbnail of the video that you'd like to add subtitles to, then click 'Subtitles' from the left-hand menu.

You may find that YouTube has automatically added subtitles to your video – in this case, click 'duplicate and edit' to check or amend the automatic subtitles:


If there aren't any existing subtitles, click 'Add language' to select your language, then 'Add' in the Subtitles column to upload your SRT file.

How to add subtitles to an online video
To add subtitles to a video, follow these steps:
Head to Kapwing.com and create an account, and upload your video.
Once your video has uploaded, click the 'Subtitles' icon in the left hand sidebar. From here, you can either head to their 'magic' tool to automatically generate subtitles, or use the 'classic' tab to either manually enter subtitles, or upload your SRT file:
You can then edit the subtitles, including font, colour, size and placement, using the tools on the left of the page.

Once you're happy with the look of the subtitles, click download and you'll then get a copy of your video complete with subtitles. Kapwing's free tool does include a watermark on the finished video – to remove the watermark, you can upgrade to a paid Kapwing account.
Hopefully this guide has shown you all you need to know about adding captions and subtitles to your online videos!
If you'd like any more tips or advice, reach out to our friendly team – we're here to help!

When you need a professional video that really cuts the mustard, we're your guys. We've got creative hubs in Bristol and Manchester, allowing us to create marketing videos for businesses across the UK. Find out more about us right here.

Want more?

Once you've added your subtitles, it's time to market your video to the fullest. Watch our super handy webinar to find out how to create a watertight video marketing strategy that brings you real business results.